Edit: Since posting this, magnetic polishes have popped up in lots of places. You can find them at Claire's, Icing, Hot Topic, and Walgreens (and I'm sure other places too).
China Glaze is coming out with a magnetic nail polish. It was supposed to be released mid February, but it now looks like they might hit shelves as early as January 15th. I've been eying these cool magnetic style polishes since I first saw a picture of them in Allure magazine about a year ago. Finally there is a "drugstore" version (Sally Beauty Supply carries China Glaze). Here is how it works. You paint you nails with the special polish. Then you hold one of the magnetic plates over the nail and the pattern emerges on your nail. What more could a geek who likes nail polish want? The bad news is that these will reportedly be 10 bucks a pop and an additional 10 bucks for the three magnet design plates. Um, yeah. The inner geek in me doesn't want to pay 20 bucks to watch a magnet move nail polish into a cool pattern. I'll wait until Wet N Wild decides to make their own version. :) I'll attach some random images I found of magnetic nail polishes on google so you can get an idea of what magnetic nail polishes look like. None of the pictures are my nails.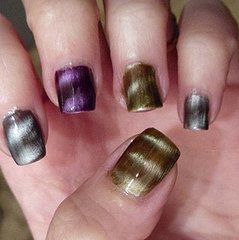 Edit: Click here to see swatches of the
China Glaze Magnetix
on The PolishAholic. I plan to get one of the
Icing Magnetix
(at Claire's/Icing stores, jewelry stores in the mall). Click for her swatches of those polishes.